Alomo Bitters is made with purified water, plant extracts and a neutral spirit. This results in a truly authentic herbal drink exquisitely crafted by nature's hands. It's best served straight, on the rocks or part of an invigorating cocktail It is revitalizing.
FOOTPRINT: Alomo Bitters has been on the market for many years and is present in Ghana, Nigeria, Togo, Cote D'ivore, Benin, Burkina Faso, Sierra Leone,Botswana, Uganda, Zimbabwe, South Africa, United Kingdom and the United States.
RANGE: The Alomo Bitters is offered in a distinctive green 750ml glass bottle, 200ml PET bottle and also in a 30ml sachet.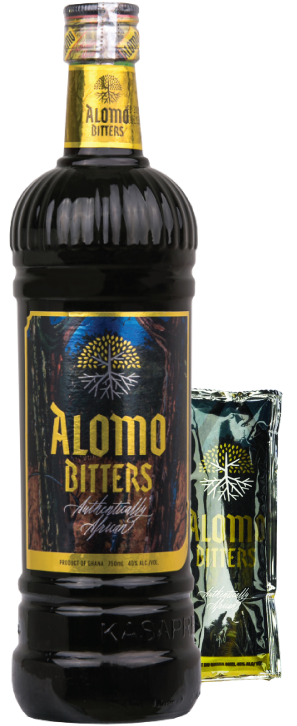 Alomo Bitters is a blend of herbal extracts from carefully selected tropical plant extracts based on a secret family recipe, scientifically formulated to ensure your body receives the herbs the way nature intended.
The Excellence of Cognac Fine Bitters.
Alomo Bitters is the signature of our Cellar Master who with his expertise blends up to 400 different eaux-de-vie.