Kasapreko Company Limited, has once again demonstrated its commitment to supporting technical education in the country by awarding the best engineering graduate from Cape Coast Technical University with the 2023 Kasapreko Excellence Award. This initiative aims to recognize and support academic excellence among technical student graduates in Ghana.
Isaac Addo, this year's deserving winner, was honored with a cash prize of GH₵3000, a laptop, and a commemorative plaque at the university's 2023 congregation. He will also undertake his National Service at Kasapreko Company Limited, giving him the opportunity to practically apply what he has learned in school.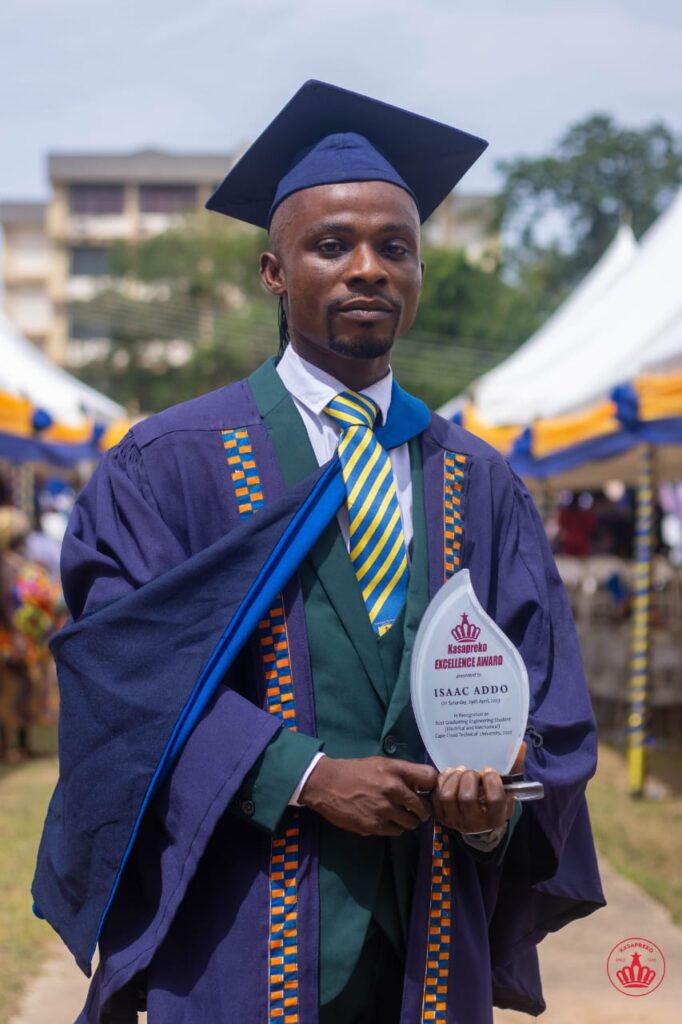 Speaking at the ceremony, Mr. Solomon Owusu Bonnah, the HR Manager at Kasapreko Company Limited, emphasized the importance of bridging the gap between academic and industry, stating that the award was a testament to the company's commitment to investing in technical education for the development of the country and the growth of the manufacturing industry. "We remain poised to extend it to all technical universities across the country," he added. 
The Kasapreko Excellence Award is part of the company's corporate social responsibility to groom and give work exposure to excelling technical students. By recognizing and supporting academic excellence, the award contributes to bridging the academic and industry gap, offering students the opportunity to practically apply what they have learned in school. In his remarks, Mr. Isaac Addo expressed his gratitude to Kasapreko Company Limited and his eagerness to make an impact with the company during his period of service. 
The Kasapreko Excellence Award is an important part of the company's corporate social responsibility efforts, which aim to promote technical education and support outstanding students in Ghana. Through this initiative, Kasapreko not only recognizes academic excellence but also provides students with the opportunity to gain practical experience and become leaders in their communities. By extending the program to all technical universities in the country, Kasapreko is committed to contributing to the development of Ghana and the growth of its manufacturing industry. 
Source: https://citinewsroom.com/2023/05/kasapreko-awards-cape-coast-technical-universitys-top-engineering-student/