Kasapreko PLC, a trailblazer in the manufacturing and FMCG industry, not only secured coveted awards at the HR Focus Conference and Awards 2023 but also reaffirmed its commitment to HR excellence at this year's Grand Annual Conference. 
The HR Focus Conference and Awards 2023, held on Thursday, September 31st, 2023, at the Accra International Conference Centre, brought together HR professionals as well as influential stakeholders who were recognized for their exceptional HR Management Practices across various industries. This year's edition, dubbed under the theme "The HR Mandate; Building Resilient People and Businesses," hosted fierce competition from companies, HR practitioners, and leaders from diverse industries.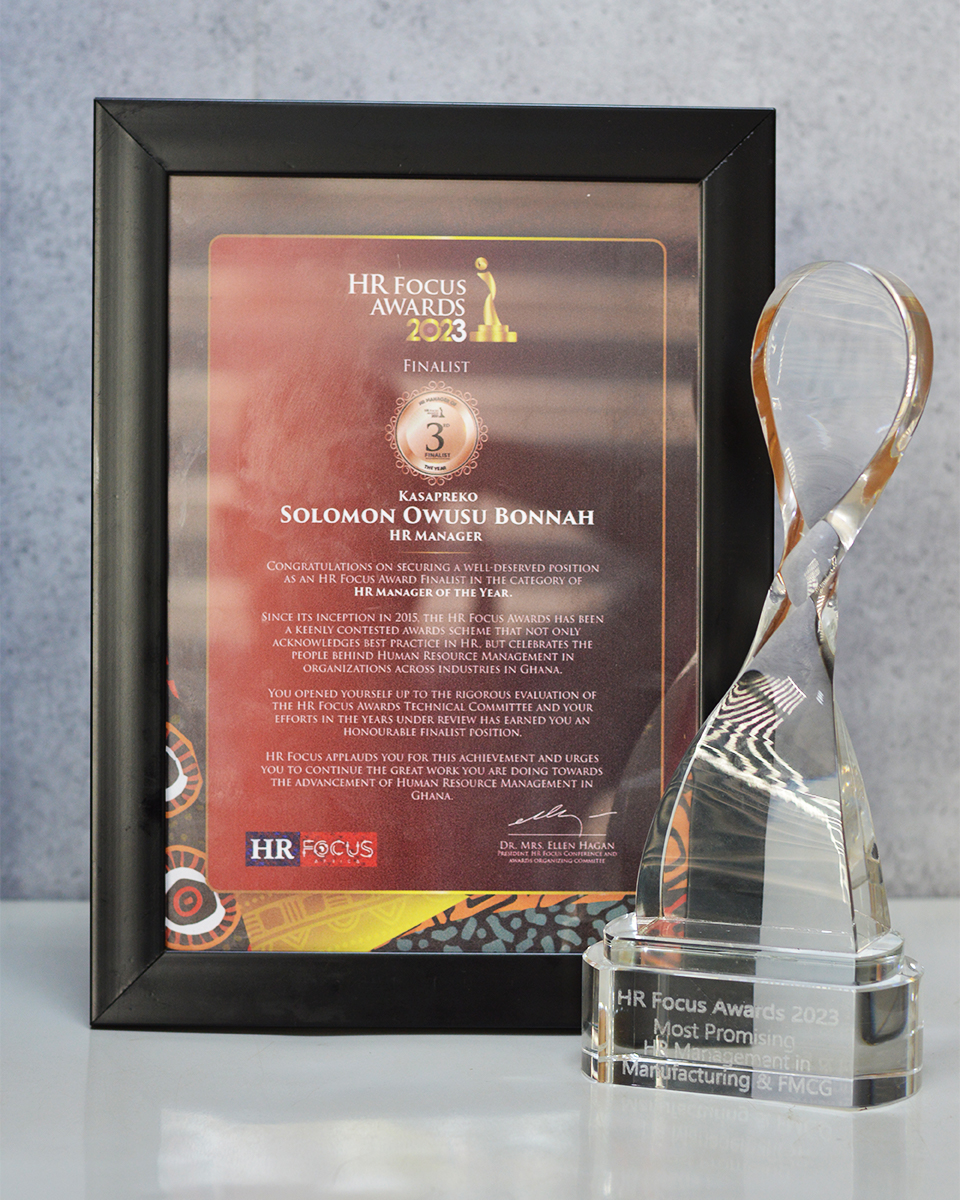 Mr. Solomon Owusu Bonnah, the dedicated Human Resource Manager of Kasapreko PLC, achieved a great milestone as one of the finalists of the annual HR Focus Awards in the HR Manager of the Year category. Kasapreko PLC is proud to have Solomon Owusu Bonnah placed third in the incredibly competitive "HR Manager of the Year" category. His accomplishment displays his unwavering commitment and ability in the sector. 
But the triumphs for Kasapreko PLC did not end there. The company received a significant accolade, being awarded the "Most Promising HR Management in manufacturing & FMCG" and the 4th finalist in "Best Organization in Organizational Culture." These honors highlight the exceptional teamwork and commitment within the organization. 
Kasapreko PLC's stellar performance at the HR Focus Awards 2023 signifies its unwavering commitment to HR excellence and the cultivation of a positive workplace culture. The awards serve as a testament to the company's dedication to nurturing its employees and driving positive change in HR management practices. 
As we celebrate these remarkable achievements, Kasapreko PLC looks forward to an even brighter future in HR leadership. The company's journey of excellence continues, guided by its commitment to being "a step beyond excellence" in the world of work, poised for continued success and positive transformation in the FMCG industry.